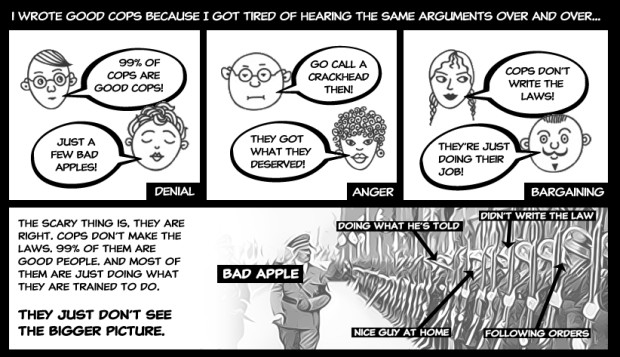 At this stage in the game I can't believe I still have to explain this to people. Generally even people who identify as smart, educated, and 'free Americans'. But here we are.
You light your fireworks and you post your eagles on the internet. You eat your hotdogs and watch your baseball. You love your freedom. But the second someone lodges a complaint about a cop or subset of cops that has violated the sanctity of someone's rights, you immediately jump to the conclusion that they are calling all cops worthless pigs and advocating Somalian-style anarchy and 'well that's just not fair because you knew a cop once who was a good guy and so therefore you must hate America!'
Calm the fuck down.
Firstly, you are being a hypocrite, because there is not a single intelligent adult in this country, including yourself, who can tell you that they whole-heartedly believe that no department corruption, police brutality, or power abuse happens in literally every police department in the country. If I'm wrong and you ARE that person… well, I envy your naivety. That level of ignorance must be blissful.
Secondly, and more importantly, is that your assumption is wrong in the first place; That guy you know who is a cop probably really is a fantastic fellow, and nobody ever said that he wasn't.
At this point, I need to briefly sidetrack the conversation for some prerequisite knowledge. We will call this the Heirarchy of a Free Society.
If you're a regular reader, then you know about the Non-Aggression Principle already. If not, then please take a look at this article. In a truly free society based on the Non-Aggression Principle, your heirarchy is as follows:
Top Tier – The People
This list is your average normal person.
This includes You, Joe Blow down the street, that homeless guy on the corner, that drum-circle hippie, that bible thumping Glenn Beck fellater, the list goes on.
Middle Tier – The Law
This does not exist under the people because the people are above the law, it exists here because there should never be a law that should hinder the daily life of an average member of The People. The Law only exists to provide guidelines for Public Servants to deal with Criminal Shitbags.
Lower Tier – Public Servants
Before you get all bent out of shape, everyone in this group is in 'Top Tier – The People' every second of every day that they are not at work. While they are working, however, they are entrusted with a great deal of power and responsibility, and it is very important to understand that while they are working, they WORK FOR the The People. The People are the boss. The boss is in charge, and the Servant does his bidding.
This includes: cops, the government, postal workers, teachers, etc.
Lowest Tier – Criminal Shitbags
Another very important note: In this description, 'Criminal' is not defined by 'The Law', but by the Non-Aggression Principle. Therefore this list does not include things like people who don't wish to wear seatbelts, people who wish to use their own time and money to purchase and use 'illicit' drugs, people who really have to pee and don't have access to a bathroom, jaywalkers, people who are willing to provide services such as sex in exchange for money, or anything of that nature that doesn't actually harm anybody.
It does include things like: rapists, murderers, and the like.
So back to the point; There is a difference between 'Good' cops and 'Bad' cops.
Good cops understand the tier that they are in and act accordingly. Good cops act in the best interests of the people they are sworn to protect and serve, even [or perhaps 'especially'] in situations where enforcing 'The Law' is, in fact, contradictory to the goal of protecting and serving the people. Good cops understand that they have the discretion to refuse to enforce laws that are not right, moral, constitutional, etc., and they excercise that discretion accordingly.
This is an example of a Good cop:
Bad cops believe that they are two tiers above The People. Bad cops believe that between themselves and The People, is The Law. This is why there are Laws that seek to affect and regulate the daily lives [nonviolent activities that do not harm anybody] of The People, and this is a serious problem in itself. Bad cops act in the best interests of The Law and Themselves rather than The People, and The People only where it is convenient or beneficial to The Law or Themselves. Bad cops cite a responsibility to follow orders and the rule of law, even in cases where it is to the detriment of The People. Bad cops behave in a manner that is not consistent with The Law, and face no consequence, because Bad cops will not enforce The Law against other Bad cops.
There are plenty of examples of Bad cops. I don't feel a need to reinvent the wheel, so I will post the best montage I am aware of, courtesy of Rob Hustle:
I know or have met a grand total of 'Good cops' that I can count on one hand. I admit that my views are skewed, because generally the only cops who would bother me are specifically the ones that are 'Bad cops', since the 'Good cops' have no reason to interfere with an average person going about a safe and legal activity. When I criticize a cop, or a subset of cops, I am calling those specific cops Bad cops. In 99% of cases, people who fall into the category of Bad cops are not Public Servants, but in fact Criminal Shitbags.
Hopefully this explanation will give you the insight you need to refrain from immediately jumping to an incorrect conclusion in the future, and enable you to have a mutually beneficial and enriching conversation about the current state of national and world affairs. If not, then I fear you are either naive, a hypocrite, an idiot, a Criminal Shitbag, or a Bad cop, or more likely some combination thereof.